Description
Moisturizing CBD Face Cream By L'Botanique
L'Botanique Moisturizing CBD Face Cream is a rich anti-aging formula that provides 800 milligrams of pure CBD and will help keep your skin hydrated, supple and smooth. Fine lines and wrinkles are visibly softened and minimized, transforming your skin to have a more youthful, radiant glow. Use day or night. Suitable for all skin types.
Lab tested for potency and purity. Verified to be 100% THC-free.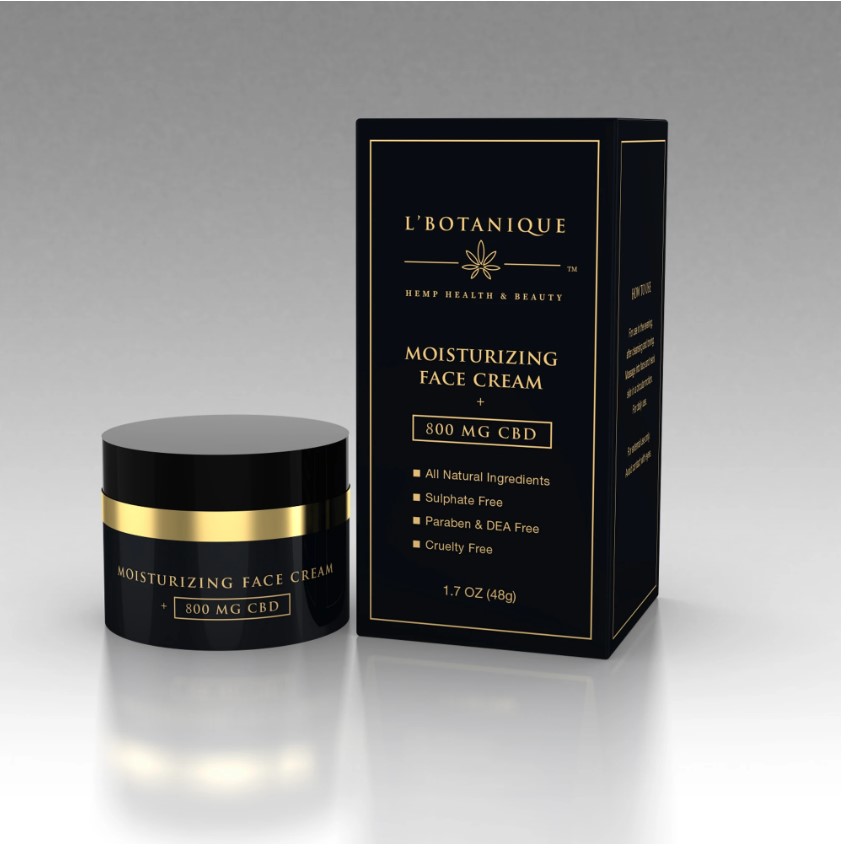 More About CBD Face Cream
CBD face cream is a skincare product that has gained significant popularity in recent years. It is formulated by combining CBD oil with other nourishing ingredients such as shea butter, vitamin E, and aloe vera. The result is a potent skincare product that provides deep hydration, soothes redness and inflammation, and improves the overall appearance of the skin.
CBD, short for cannabidiol, is a non-psychoactive compound found in the cannabis plant. When applied topically, CBD has numerous health benefits, including reducing inflammation, regulating oil production, and providing antioxidant protection.
Inflammation is a common cause of various skin problems such as eczema, acne, and rosacea. CBD face cream has anti-inflammatory properties that help to soothe irritated skin, reduce redness, and swelling. This means that people with sensitive skin, prone to inflammation, can benefit greatly from CBD face cream.
CBD is also an excellent antioxidant that can protect the skin from free radicals that cause premature aging, among other skin problems. Free radicals are harmful molecules that are formed when the skin is exposed to environmental stressors such as UV rays, pollution, and smoking. They damage the skin cells, leading to the formation of wrinkles, fine lines, and dark spots. CBD neutralizes free radicals, thereby protecting the skin from damage and keeping it looking youthful.
Another significant benefit of using CBD face cream is its ability to regulate oil production. Excess oil production is a common cause of acne breakouts. CBD regulates the activity of the sebaceous glands that produce sebum, the oily substance that lubricates the skin. By controlling oil production, CBD helps to prevent clogged pores, which in turn prevents the formation of acne.
When shopping for CBD face cream, it is essential to look for high-quality products made with natural and organic ingredients. This ensures that you are getting a product that is free of harmful chemicals that can irritate the skin. It is also crucial to check the concentration of CBD in the product. The concentration of CBD varies significantly among products, and it is crucial to choose a product that contains enough CBD to be effective.
Using CBD face cream is just one of the things you can do to keep your skin healthy and glowing. You can also take other steps such as eating a balanced diet, staying hydrated, and getting enough sleep.
Drinking enough water is vital for maintaining healthy skin. Hydration helps to keep the skin moisturized and supple, which is essential for healthy-looking skin. Eating a diet rich in antioxidants such as berries, leafy greens, and nuts can also help to protect the skin from damage and keep it looking youthful.
Sleep is crucial for healthy skin. Lack of sleep can increase the production of cortisol, a stress hormone that contributes to skin issues such as acne and inflammation. Getting enough sleep (7-8 hours a night) can help to reduce stress levels and keep your skin looking its best.
In conclusion, CBD face cream is a potent skincare product that can help to reduce inflammation, regulate oil production, and provide antioxidant protection. When shopping for CBD face cream, it is essential to choose a high-quality product made with natural and organic ingredients and a sufficient concentration of CBD. Additionally, taking steps such as staying hydrated, eating a balanced diet, and getting enough sleep can help to maintain healthy skin.