Description
[rank_math_breadcrumb]
CBD Massage Oil 250 MG By House of Savoy
HOUSE of SAVOY ™ CBD Massage and Body Oil – A luxurious, all-natural CBD-rich massage oil. Combining pure hemp CBD (CBD), with botanical ingredients such as Chamomile and Lavender, the oil enhances skin's softness and elasticity while also adding important nutrients to dermal health. This can cause redness, uneven skin tone, and even blemishes. Spoil your skin!
Lab tested for potency and purity. It is 100% THC-free.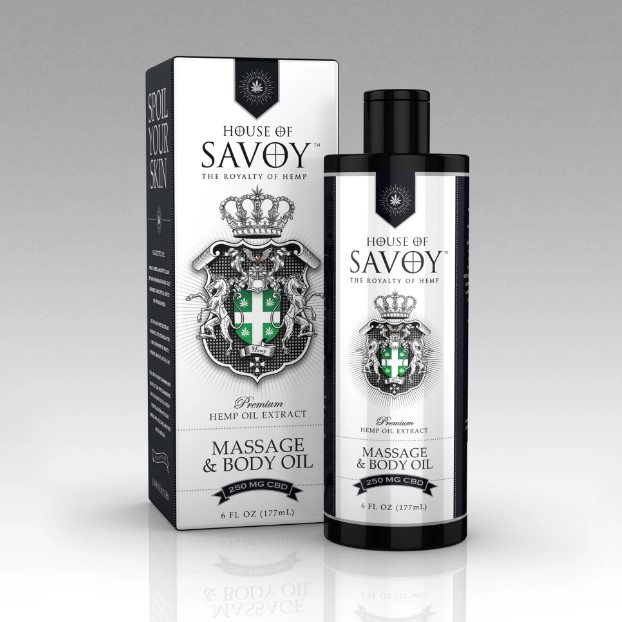 Massage the oil into your clean, dry skin. Pay attention to any dry or rough spots. Apply to your skin as a daily moisturizer or massage oil after a shower or bath for soft, moisturized skin that lasts the day.
Only for external use

Keep your items in a cool place, out of direct sunlight

Keep children out of reach

Avoid eye contact
The History of CBD Massage and Body Oil
CBD massage and body oil is a type of massage oil that has become increasingly popular in recent years. This oil contains cannabidiol (CBD), which is a natural compound found in the hemp plant. CBD massage oil is used to provide a variety of benefits to the body, including relaxation, pain relief, and stress reduction.
CBD massage oil is made by infusing a carrier oil with CBD extract. The carrier oil can be any oil that is commonly used in massage therapy, such as almond oil, jojoba oil, or coconut oil. The CBD extract used in the oil is usually derived from hemp plants that are grown specifically for their high CBD content.
One of the main benefits of using CBD massage oil is its ability to promote relaxation. CBD is known for its calming effects on the body, and when used in massage, it can help to reduce muscle tension and promote a sense of calm and relaxation. This can be particularly helpful for people who suffer from anxiety or stress-related disorders.
In addition to promoting relaxation, CBD massage oil is also commonly used for pain relief. CBD has been shown to have anti-inflammatory properties, which can help to reduce inflammation and pain in the body. When used in massage, CBD can help to alleviate pain and soreness in the muscles and joints.
CBD massage and body oil may also have other health benefits. Some studies have suggested that CBD may be effective in reducing the symptoms of conditions such as arthritis, multiple sclerosis, and chronic pain. While more research is needed in this area, the use of CBD massage oil may be a promising alternative to traditional pain relief methods.
When using CBD massage oil, it is important to choose a high-quality product from a reputable manufacturer. Look for oils that have been third-party tested for purity and potency, and make sure that the product contains only natural ingredients. It is also important to follow the manufacturer's instructions for use and to avoid using the oil on broken or irritated skin.
In conclusion, CBD massage oil is a natural and effective way to promote relaxation, reduce pain and inflammation, and improve overall health and wellness. With its growing popularity and proven benefits, CBD massage oil is an excellent addition to any massage therapy practice. As always, it is important to consult with a healthcare professional before starting any new wellness routine, including the use of CBD massage oil.
Mineral Oil, Helianthus Annuus (Sunflower ) Seed Oil, Carthamus Tinctorius (Safflower) Oil, Caprylic Capric Triglycerides, Sesamum Indicum (Sesame) Seed Oil, Simmondsia Chinensis (Jojoba) Seed Oil, Olea Europaea (Olive) Oil, Cannabidiol, Tocopherol (Vitamin E), Beta-Carotene (Vitamin A)