Description
Live Blood Analysis Basic & Advance Home Educational Analysis With Protocol 45 Day Money Back Guarantee
(Test Available Worldwide Educational & Informational)
Live and Dry Blood Analysis Plus Detox Protocol
Find out what's in your blood and get a health update. Do you have spike proteins? parasites? Pre-diabetes, pre-Cancer? , blood clots? risk for sudden adult death? Have you or your children been shedded on? Get a blood analysis from Dr. Robert Young the top leading microscopy expert in the world.
Stage 1: Your Live/Dry Blood Analyst Kit Arrives at Your Home
Upon placing an order for a live blood analysis kit, the kit will be shipped to the address that you have provided. Typically, the kit will reach you within a duration of 3 to 5 business days. With this kit, there is no need for you to make a trip to the doctor's office or laboratory to undergo testing, as you can easily conduct the entire process at home.
Undoubtedly, conducting testing in the comfort of your home is a time and effort-saving measure. Hence, many individuals commend our testing process for its convenience, as evidenced by statements like this:
"Nothing beats the convenience of having a test delivered straight to your doorstep and being able to obtain the results within a week of taking the blood sample. Additionally, their online interface for accessing the results is user-friendly. In my case, I discovered that my vitamin D levels were extremely low, which was expected due to my residence in a northern region. I plan to conduct monthly tests while incorporating supplements to determine the necessary dosing required to maintain healthy levels."
Stage 2:  Prepare Your Live/Dry Blood Samples.
Upon receiving the live/dry blood kit, it will contain all the necessary components to gather a sample, which will then be dispatched to a laboratory for testing. In the event that the kit requires a blood sample, it will include lancets that you can use to prick your finger and collect a few drops of blood onto the designated areas on the collection card.
How to provide a dry blood sample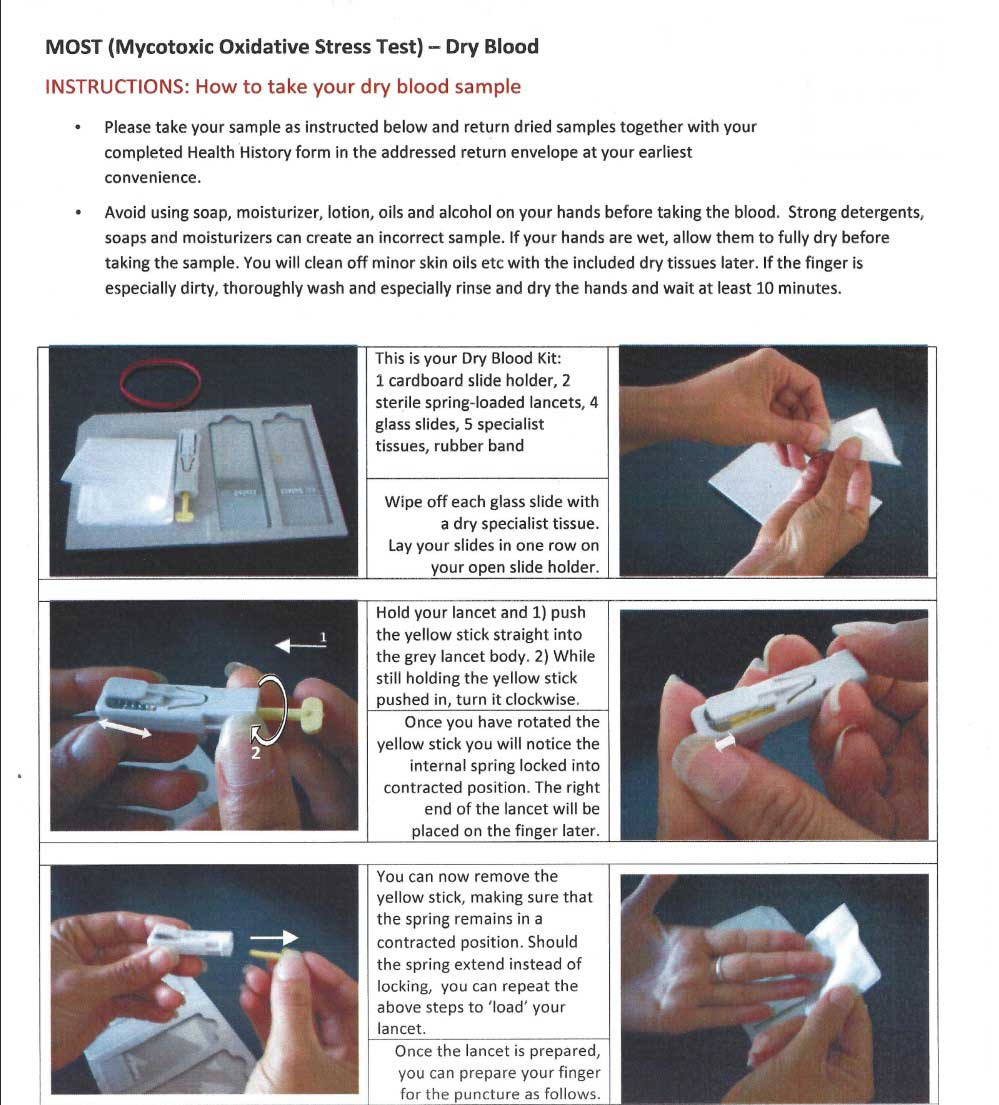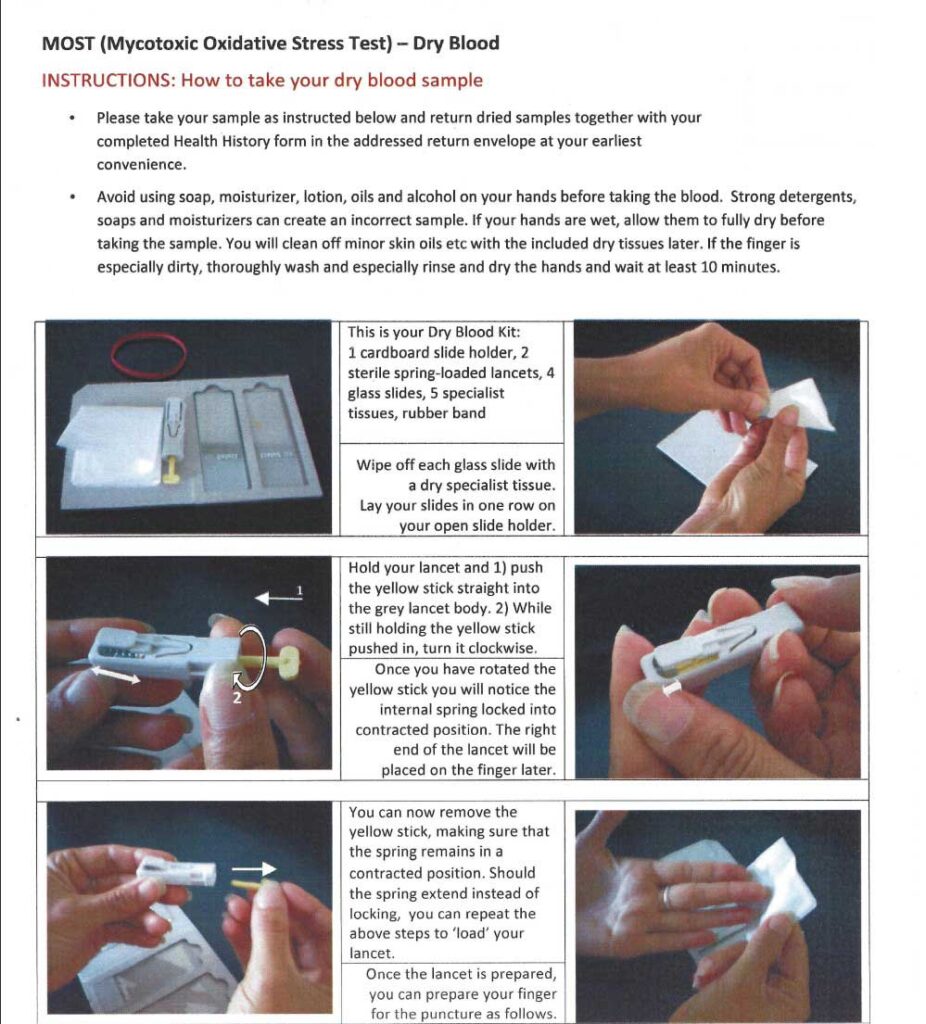 If your hands are very cold or white, you may need to warm them on your body or with warm water. The pinprick is a tiny puncture which may be uncomfortable and sometimes hurts, usually no more than a pinch with a fingernail. Choose the weaker body side (usually the hand you do not write with, or the one where pain, rashes or other symptoms are strongest) Use the middle finger (on babies you can use a toe instead) With a dry wipe, gently remove minor dirt and oils.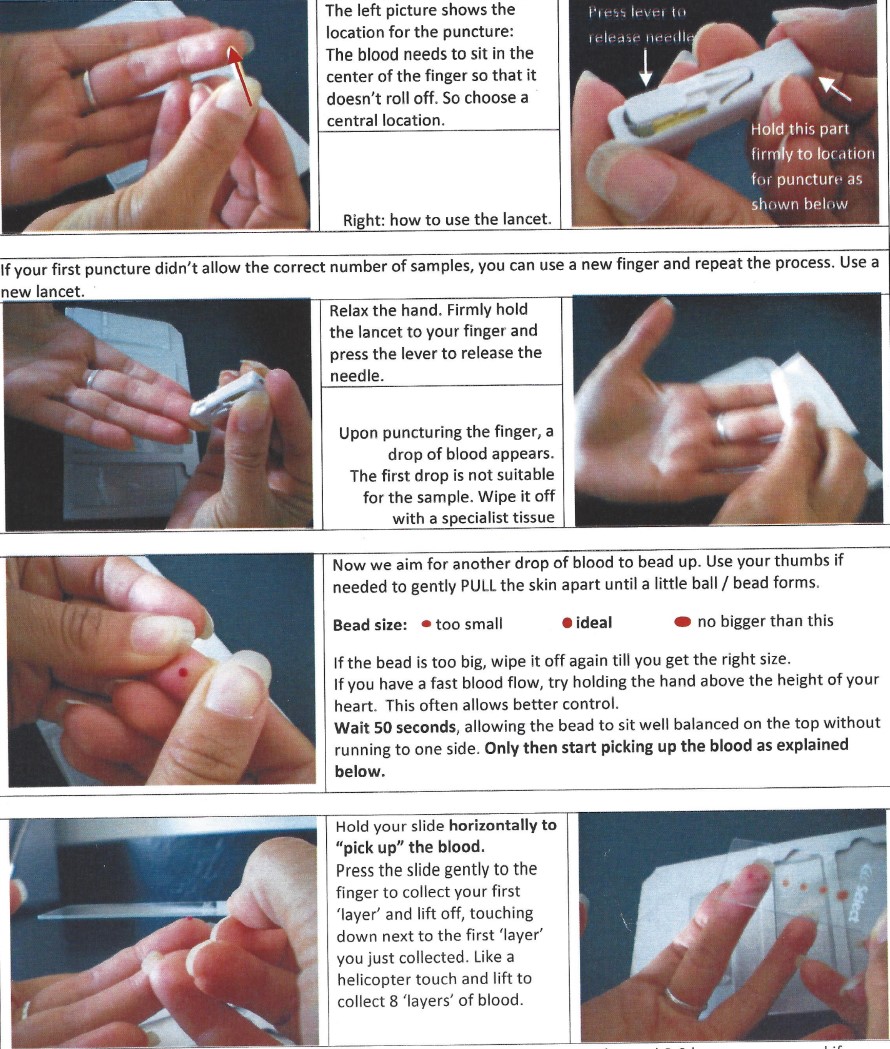 Touch the slide to the finger, picking up ALL the blood, even if you sometimes go beyond 8-9 layers or more and if you have to do a double row on the slide.
Turn over immediately (blood up) to dry naturally. Repeat with the remaining 3 slides.
Do not press the side hard or slide the blood along the slide. See correct and incorrect examples on the following diagram.
How to Prepare For your Live and Dry Blood Test
A lor of our clients ask how it is possible to do a live blood test over the mail. The world's top microscopy expert Doctor Robert Young with over 40 years of experience explains how to prepare your live sample in this video around minute 30.
Stage 4: Send Your Blood Sample Back To Us For Analysis
Each kit contains all the necessary materials to send your sample to one of our testing labs, including a prepaid shipping label. Simply insert your sample into the provided mailer, affix the shipping label, and deposit it into the mail.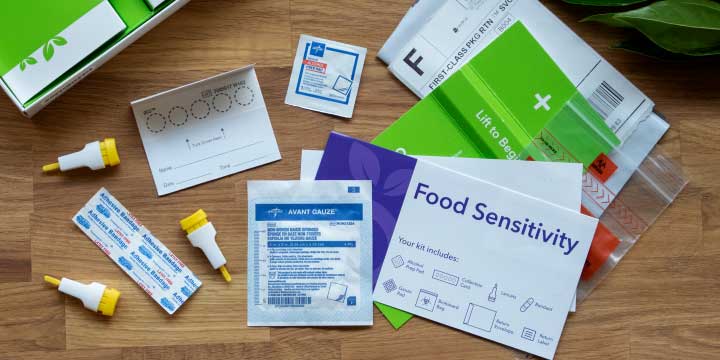 Stage 5: Your Sample is analyzed.
Your blood will be analyzed under a professional microscope by one the world's top microcopy experts.
Stage 6: Your Results will be emailed to you along with recommended protocol.
Multiple pictures and in some cases, videos will be emailed you along with a protocol, In serious cases you may be asked to do a zoom call for further information.
Watch the video of three separate tests on YouTube here.
Who needs a live and dry blood analysis?
Vaccinated Individuals 
PCR Tested Individuals
Children who are in close contact with vaccinated individuals
Unvaccinated Individuals in close contact with vaccinated individuals 
Live and Dry Blood Analysis By Doctor Robert Young
Live blood analysis can detect signs of:
• Cardiovascular disease
• Oxidative stress
• Over-acidity of the body
• Anaemia
• Bacteria
• Viral presence
• Parasites
• Yeast, fungi, mold
• Liver dysfunction
• Gut disorders
• Bowel problems
• Autoimmune disease
• Allergic reactions
• Inflammation
• Elevated white blood cell count
• Vitamin and mineral deficiency
• Degenerative conditions
A dry blood test can detect signs of:
Blood Cell Integrity
The nutritional status of your blood
Digestive Health
Liver and General Organ Health
Hydration Levels
Any inflammatory processes
Status of your immune System
Toxin and antioxidant levels
Other potential health issues
Graphene Damage Detected In Vaccinated Female Blood.
*
Parasite Found In Blood of Vaccinated female.
Unvaccinated Male Finds Out That He Is Pre-Diabetic
Introduction
Why Live And Dried Blood Analysis?
The main purpose of blood evaluation, according to Dr. Young, is to show how the body is being challenged by acid and indications of related symptoms. His foundational theory is that all functions of the human organism are acidic and that the ideal state of the body is alkaline by design. It is well-recognized that blood shows biological changes when the body is experiencing symptoms of sickness and disease. Empirically, after many years of research by numerous scientists, it has been discovered that certain blood profiles are associated with certain health challenges. Dr. Young's understanding, as in The New Biology, states that there is only one sickness and one disease, which is the over-acidification of the body. Dr. Young also states that there can only be one remedy or treatment, which is to alkalize the body and restore an alkaline/acid balance. Blood samples reflect the type, degree, and area of acidification as well as the effects of the acidification in the body. Nutritional and lifestyle changes can then be made to alkalize and restore the alkaline/acid balance (pH balance) in the body.
The information and findings from your blood demonstration are made in accordance with Dr. Young's understandings, as in The New Biology. The findings will make it possible to indicate appropriate nutritional and lifestyle changes that could be made by you to restore an alkaline/ acid balance to your body. Follow-up support is also available to help you implement any changes you choose to make.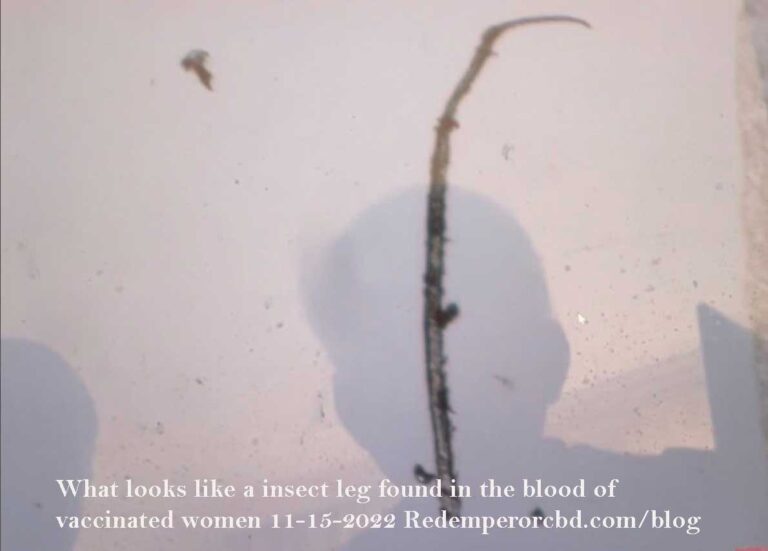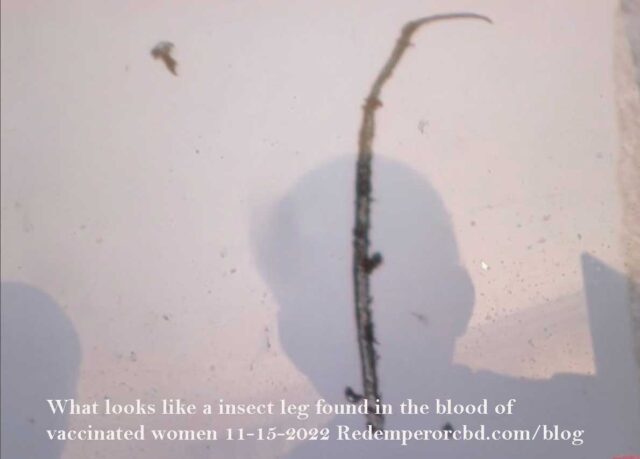 IMPORTANT NOTE:
The process is for educational and informational purposes only and does not diagnose or treat disease or replace consultation with a medical practitioner. Changes in nutrition and lifestyle, and the underlying reasons for making changes, are fully explained in the book, revives and updated "The pH Miracle", as well as in other publications written by Dr. Young
What Is Live And Dried Blood Analysis?
An alternative examination routinely used by holistic medical, osteopathic, chiropractic, and naturopathic physicians, as well as other health care professionals, around the world, to educate their clients about the effects of lifestyle choices on their inner terrain – cells, organs, and body -and to determine whether they are moving toward organization or disorganization, balance or imbalance, health or disease, and how fast. Two tests show a "visual picture of your health" highlighting the impact of your past and present lifestyle choices on your "inner terrain", cells, organs, and body – making it easy to identify the best resources and step-by-step strategies for fast, long-term, relief from an imbalance and monitor your progress in follow-up sessions.
Live Blood Analysis Benefits
See characteristics of blood, live, on a video screen and get current and past information pertaining to "biological terrain" (inner environment) – stress appears in blood sometimes years before it manifests as symptoms. •Get early warning of possible upcoming challenges. •See obvious patterns of disorganization. •Be alerted to the advisability of medical referrals. •Monitor conditions before and after regimes. •Determine the effectiveness of various regimes. •And more…
Interpreting Live Blood Analysis
Healthy blood samples in the live analysis should have red blood cells residing freely in their own space, they may be touching, but not overlapping or sticking together, and should be gently bouncing off of each other; they should be uniform in size, shape, and color. The blood serum (space surrounding the cells) should be clear, without parasitic forms, bacteria, yeast, mold, crystals, or other undesired floating masses.
Organized Live Blood Samples

Disorganized Live Blood Samples

Eat  Lightly before the test.
Do you use a cell phone or computer 3 hours before your analysis
Live Blood Analysis Detecting Shedding & Transfection
There are many confirmed reports of the vaccinated transmitting to non-vaxxed including children. The issue is there is no general consensus as to how the transmission is occurring. According to Pfizer's own documents, shedding occurs via close physical contact. But we have also heard of shedding occurring just by being in the same vicinity as a vaccinated individual. Moreover, Doctor Young has confirmed that the nanotechnology was found in test subjects BEFORE the Covid and he has seen it in blood samples for over 20 years in plants, animals, and humans which strongly suggests it was being introduced via the water food supply and possible chemtrails.  For more information on shedding see https://redemperorcbd.com/covid-shedding-from-vaccinated-to-non-vaccinated/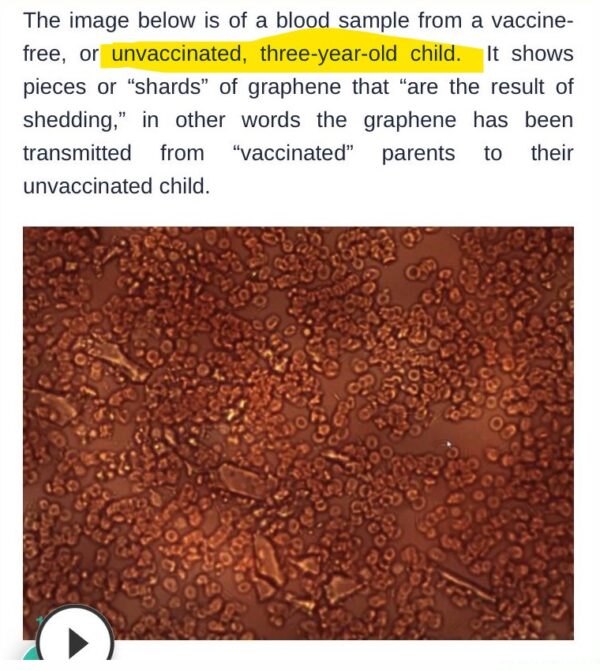 Live blood analysis includes [$249]
Blood and health analysis snapshot of your last 120 days.
Mailed Kit that includes 2 slides, 2 covers slips, Kim Wipes, and lancet blood draw tester.
You receive 2 to 3 pictures of what is found in your blood, including parasites, nanotech, rouleau formations, graphene, etc.
General Protocol with a focus on any major obvious problems.
Dry Blood Analysis includes [$249]
Blood and health analysis of your general health over your lifetime
Mailed Kit that includes 2 slides, 2 Covers, Kim Wipes, and lancet draw tester.
You receive 2 to 3 pictures of what is found in your blood, including parasites, nanotech, rouleau formations, graphene etc.
General Protocol with a focus on any major obvious problems.
Full Blood Analysis [$1799] email [email protected] for availability and schedule  times
Includes live blood analysis and dry blood analysis plus 60-page reports with 50 different pictures of your blood
1-hour zoom call with Dr. Robert Young
Custom Protocol Plan See Nutritional Microscopy Profile for an example
D- Dimer Blood Test (Blood Clotting Level) for US Residents Only
Need a test but your funds are low?
Join our affiliate program and earn 15 percent for life on ALL products sold from Redemperorcbd.com
Refer 7 people for the basic test and earn $315.00
Refer 2 people for Full blood analysis and earn $300
Instructions:
Fill out the release form and answer the questionnaire.
Email your application to [email protected]
Make Payment and your kit will be mailed out within 48 business hours.
Processing Time for Basic Test is 3 Business days.
Processing time for the Full test is 5 business days.
**Processing times are subject to change based on demand.
***If you are low-income email us at [email protected] for our free analysis service
DownLoad Release Form For Testing
Nutritional_Microscopy_Profiles_For_Certified_Microscopists-2
Redempeorcbd_Live_Dry_Blood_test_questionieer